Międzyrzecz, Poland was the city where the second meeting of the German-Polish teacher team took place (10.-11.01.2013) The focus of the meeting was the analysis of the German-Polish border region, in which the German (in Angermünde) and the Polish schools (in Międzyrzecz and in Gorzów Wielkopolski) are located. The teachers presented their analysis of the economic areas and discussed how they differed from each other and what potential for school career orientation could be derived from them. The representative of the town of Gorzów Wielkopolski, Krzysztof Karwatowicz, presented his perspective on which potentials the neighboring border regions should be shown in the school vocational orientation.
The second part of the event focused on practice contacts. The host school presented the practice contacts, which are already established in the school (simulation companies, student companies, etc.). It was discussed which topics could best be realized with which methods. The teachers dealt with how to prepare, follow-up and carry out practice contacts and evaluate the achieved learning outcomes. This knowledge was tested on the example of the company survey in company "Essel Propack Polen", which was later jointly reflected.
Zespół Szkół Ekonomicznych w Międzyrzeczu, Zespół Szkół Ogólnokoształcących w Gorzowie Wielkopolskim, Ehm-Welk-Oberschule in Angermünde as well as lecturers of the Wojewódzki Ośrodek Metodyczny, Lubuskie Kuratorium Oświaty (both: Gorzów Wielkopolski) and the Institut für Ökonomische Bildung (Projectcoordinator).
0_program 2. Seminarium_Doskonalenie_grupa PL-DE
0_Programm_2. Praesenzveranstaltung_Fortbildung_Gruppe_PL-DE
1.1_PL_UE i europejski rynek pracy
1.2_DE_EU und der europäische Arbeitsmarkt
2.1_PL_Gestaltung von Praxiskontakten_Betriebserk. & Expertengespräch
3_Metodyka_kontakty z praktyką
4_charakterystyka regionu lubuskiego_Krzysztof_Karwatowicz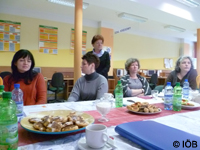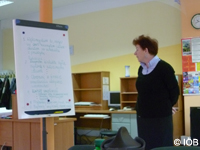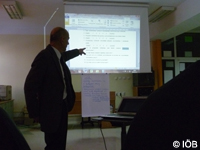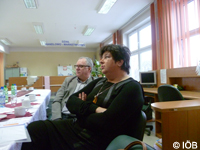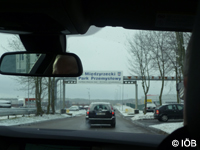 The teacher training: Second Working Meeting in the German-Polish Border Region